As mentioned in my previous post, the Black Falcons only currently have one torso print, their original torso from 1984. This makes it incredibly limiting when you want to be able to show a range of different units. I chose to see this as a design problem that would be fun to solve, how best to take the visual style of the Black Falcons faction and implement it across various torso styles?
I began by looking through all the torso designs from the more recent castle themes (Knights Kingdom II (2004), Castle (2007), Kingdoms (2010), Castle 2013) with the aim of identifying how many torso designs each faction had and which units I would like to include in my build.
I decided on four distinct units, each with a different weapon specialisation: pikemen, crossbowmen, axemen and knights. At this stage I am unsure how I want to tackle the knights themselves, so I will come back to them in a later post, but I have so far designed suitable torsos for the other three units, which you can see below.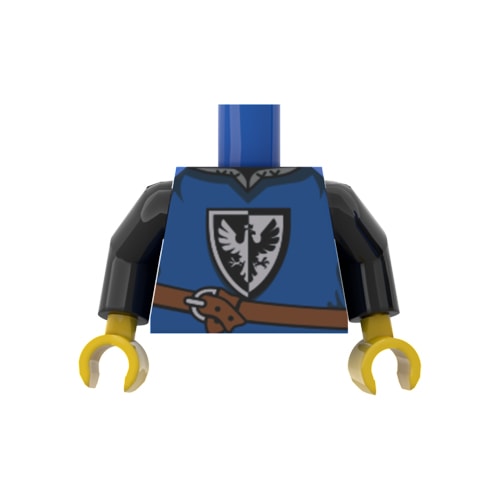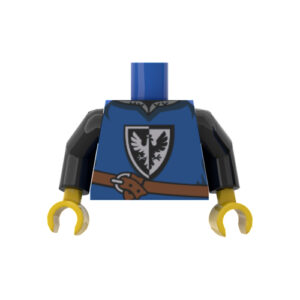 Pikemen
My design for the pikemen is a pretty faithful update of the original 1984 Black Falcons torso design that we all know and love. I wanted to make sure that it has a large area of blue and a maximised Knights of the Black Falcon emblem. I added a belt, a chainmail undershirt just barely visible at the collar and some slight dark blue shadow/crease detail.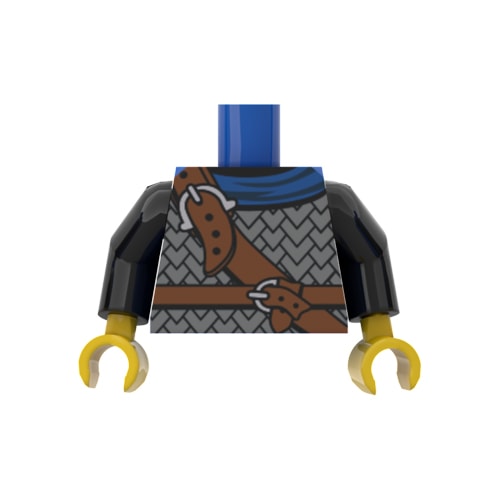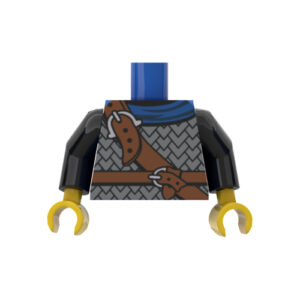 Crossbowmen
My crossbowmen torso design was inspired by a Crown Knight torso, Scale Mail with Chest Strap though I have drawn my own artwork for all elements. The main thing I wanted to retain was the large buckle and strap for the quiver. I ended up creating my own scale mail pattern based on feather shapes specifically for the Black Falcons. I also wanted to bring some blue in so I have added a sash across the top that will tie in with the blue cape that the crossbowmen will wear.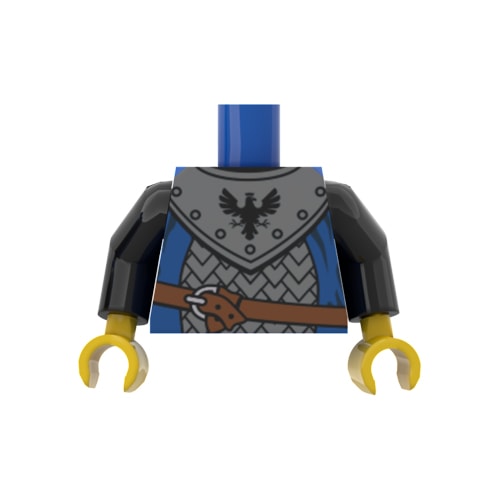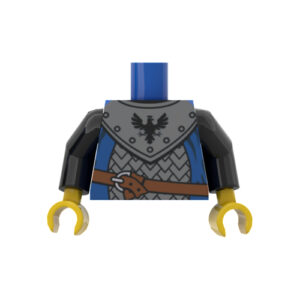 The plan is to have my torso designs pad printed on blue torsos with black arms, just like the 1984 original.
So what do you think? Do they read as Black Falcons torsos to you? Let me know by leaving a comment below.
In my next post I will be talking about shield design, make sure you sign up to the mailing list if you would like to be notified when it is posted.