We recently had a monthly build competition in my local LUG, Bendigo LEGO® User Group with the theme of The Great Victorian Outdoors, and I thought I might share my submission here.
Unlike our normal build competitions – because we are unable to meet in person due to COVID-19 restrictions – we were allowed to submit digital builds this month. I decided to use all the benefits of digital building in my submission, the main benefit from my point of view being not having to rely on the limitations of available colours for particular pieces.
I decided early on that I wanted to showcase not just the environment in the state of Victoria, but to also set my build in the Victorian era (1837-1901). If you know a bit about the history of Victoria in that time period you would know about the discovery of gold in the 1850s and 60s and subsequent gold rush that followed.
Between 1850 and 1900, the Bendigo Goldfields became the richest alluvial goldfield in the world. Because of this newfound prosperity, in the 1850s the heaviest traffic in Australia was on the road from Melbourne to Bendigo, and it is in this time period and location that I set my submission.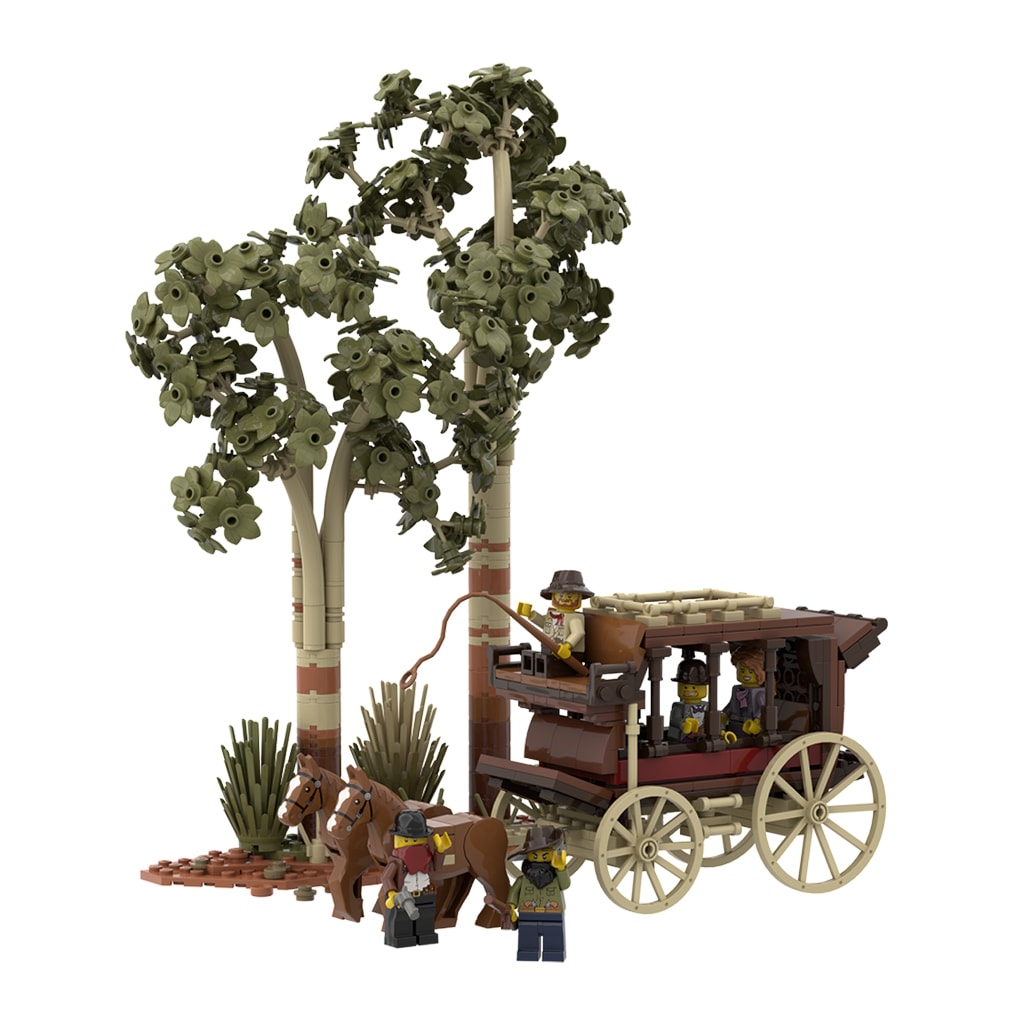 My build features a uniquely Australian scene of two towering native eucalyptus trees ( I particularly enjoyed trying to capture the unique colour palette and form of these quintessential Australian trees.), an iconic Cobb & Co. coach with driver and two passengers presumably making their way to hopefully find wealth and opportunity on the Bendigo Goldfields, but it looks like someone else has also got an idea to make some fast money, as the coach is being held up by a couple of bushrangers.
Bushranging thrived during the gold rush. These brigands were mostly Australian-born sons of convicts, the Australian equivalent of British highwaymen or outlaws of the American Wild West and their crimes typically included robbing small-town banks and coach services.
I have made the choice to use some LEGO elements in colours that they are not currently available in my build in order to best realise the colours of the Australian bush and the livery colours of the Cobb & Co coach, I know that some people may not agree with me doing this, but I hope in time that the LEGO Group might produce a wider colour range of these parts so I can build these designs with physical bricks!
I was pretty happy with how my build turned out, and it ended up coming third in the competition which was great. I should also say that the winning build by Kieran O'Brien also featured bushrangers! What can I say, well done to Kieran on a excellent build, and I guess great minds do think alike. You can check out Kieran's winning build over on his Instagram.